Cape Fear Seafood Company was noted for its crab dip on Yelp as a standout item for local diners. It was mentioned in Yelp's top 10 small food cities, wherein Wilmington ranked 7. (Courtesy photo)
WILMINGTON — As a foodie destination, Wilmington is getting big love for its small-town eats.
Yelp — a business-review platform that garners over 170 million users monthly — has scored its top 10 trending small-town foodie destinations and the Port City has garnered a spot.
IN OTHER FOOD NEWS: El Cerro group opens restaurant number 7: Mexican-style seafood at El Mariscal  
Wilmington ranks seventh, sandwiched between Charleston, S.C. (sixth) and Boise, Id. (eighth). It's quite a feat for the North Carolina coastal town to clock in just above Charleston — considered the primary foodie destination of the South with multiple James Beard Award-winning restaurants and Michelin-starred eateries.
Other towns in the state receiving recognition are Asheville in first place and Kill Devil Hills in fourth.
Savannah, Ga., placed last.
To cull the 2022 Small Foodie Cities list, Yelp considered a few factors:
It only focused on towns with populations of 250,000 or less
It followed out-of-towners that left the highest restaurant ratings
It paid attention to specific items Yelpers loved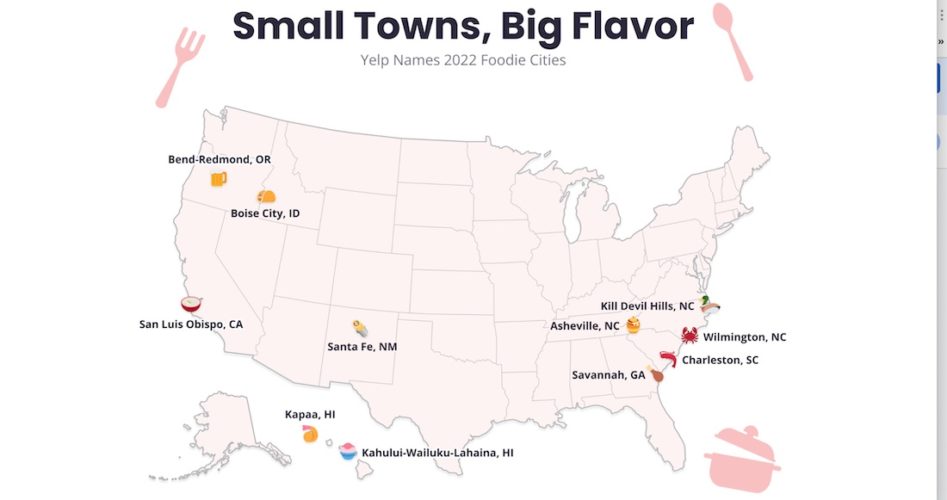 Both Wilmington restaurants mentioned as part of the list specialize in fresh fish and shellfish. Bridge Tender's crab cakes and Cape Fear Seafood Company's crab dip came in as fan-favorites on Yelp.
"It's a tried-and-true recipe I've been doing for 20 years," Cape Fear Seafood Company owner Evans Trawick said. "It's something I was making as a kid, growing up in kitchens and played around with the recipe and adapted it here — a little spice, a lot of cheese. It's just too good."
The restaurateur confirmed it was the eatery's top-selling appetizer.
Trawick opened the first Cape Fear Seafood Company in 2008 in Monkey Junction and since has expanded its operations with two more restaurants in both New Hanover and Brunswick counties. He also franchised the establishment, with two launching in Triangle area over the last few years.
"Our Raleigh partners are still looking for a third location," he said. Though in the Cape Fear region, Trawick is happy with the three for now.
Bridge Tender is a 40-year staple on Wilmington's dining scene and is located on the Intracoastal Waterway near Wrightsville Beach.
Both restaurants operate for dinner, and Cape Fear Seafood Company is also open for lunch. It has four-and-a-half stars on Yelp, with Bridge Tender scoring four stars.
Yelp's ratings are based on the number of reviews each business receives on its platform, with the average rating garnered by the credibility of its reviewers (in other words, reviews that are considered legitimate by the platform and from people who have frequent check-ins). It also takes into account key words often searched by viewers.
Have tips or comments? Email info@portcitydaily.com
Want to read more from PCD? Subscribe now and then sign up for our newsletter, Wilmington Wire, and get the headlines delivered to your inbox every morning.