RHOME MAN ARRESTED FOR MURDER – A Rhome man has been arrested for murder following a deadly fistfight with another man early Monday. Wise County Sheriff Lane Akin said Jonathan Larue Wheeler, 37, was arrested in the death of fellow Rhome resident Matthew Perry, 36. Akin said the sheriff's office received a 911 call around 4:30 a.m. from Wheeler who said he was trying to revive Perry. Law enforcement and Wise County EMS responded to the scene on Rhett Court between Newark and Aurora and also attempted to revive Perry, who was transported to Wise Health System in Decatur. He was pronounced dead upon arrival. The two were apparently fighting over Perry's girlfriend, who was previously Wheeler's girlfriend, Akin said. Perry's body was sent to the Dallas County Medical Examiners Office for an autopsy to determine the cause of death. Wheeler remained in the Wise County Jail Wednesday morning on the first degree felony charge of murder with a $100,000 bond. Read more in the midweek Wise County Messenger on newsstands today and online at wcmessenger.com.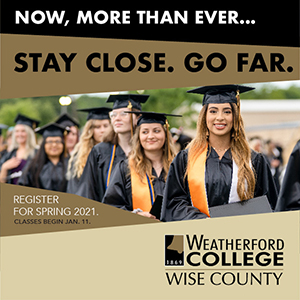 FIRE DAMAGES HOME IN SHALE CREEK – Fire tore through a two-story home in the Shale Creek neighborhood off Texas 114 near Rhome Tuesday evening. One person was transported to a local hospital by Wise County EMS with minor injuries. Firefighters from Rhome, Justin, Newark, Haslet and East Wise fought the fire in the 12900 block of Kingsgate Drive. Fire was in the garage and the second story when the first firefighters arrived on scene around 5:30 p.m. Rhome Fire Chief Darrell Fitch said initial crews mounted a defensive attack until more manpower and water arrived on scene. "Flames were in the second floor above the garage and heavy smoke," Fitch said. Once additional units arrived, firefighters worked their way into the home. Everyone was out of the house when firefighters arrived. It was occupied by four people, including the one woman transported to the hospital. Wise County Deputy Fire Marshal Randall Preuninger said the residents reported hearing a pop in the garage before seeing smoke and fire. Fitch estimated 55 percent of the home was damaged by fire. The home suffered smoke damage throughout. A vehicle in the driveway was also destroyed. Firefighters worked for several hours to overhaul the scene. Wise County EMS, Wise County Sheriff's Office and Rhome Police assisted at the scene.
LESS THAN 100 ACTIVE CASES – Wise County's number of active COVID-19 cases this week dropped to less than 100 for the first time since November. The Department of State Health Services' (DSHS) state website reported 85 active cases Tuesday. Data sent to local officials from the regional DSHS office indicates there are only 30 active cases in the county. There have been 109 deaths due to COVID-19 since March 2020. No new deaths have been reported in more than a week. Hospitalizations in Trauma Service Area E continue to drop and were at 11.21 percent Sunday.
GRASS FIRES TEAR ACROSS COUNTY – Firefighters across Wise County fought multiple large grass fires Tuesday. On County Road 2320 north of Decatur, fire burned a chicken coop, two travel trailers, a pickup, a storage shed and approximately 5 acres of grass. No injuries were reported. Wise County Fire Marshal Jeff Doughty said a heat lamp in a chicken coop appeared to have caused the fire. Decatur, Greenwood/Slidell and Alvord firefighters extinguished the blaze. Wise County EMS and the Wise County Sheriff's Office responded, along with Doughty. At Private Road 4663 and Farm Road 2048, 93 acres burned, along with a small shed. Doughty said the fire was started by a cutting torch. Boyd, Newark, Rhome, Briar/Reno, La Junta, Haslet, Saginaw and Parker County ESD 1 firefighters worked to contain the fire with help from Texas Forest Service dozers. Wise County EMS and Doughty were also on scene. Approximately 25 acres burned on Deep Creek Road. The fire started along the roadside. Rhome, Newark and Boyd firefighters extinguished the fire. Texas Forest Service dozers were on scene but not used. Doughty said there were two other fires in the county — one at Farm Roads 455 and 51 and one on U.S. 380 at the Wise-Denton county line.
WATER CONDITIONS – At 6 p.m. Tuesday, the City of Boyd's water system was back to full capacity and conservation restrictions ceased. The city was able to fill its elevated water storage tanks and resume its supply from Walnut Creek Special Utility District. The city remains under a boil water notice. Dwayne Taylor, director of public service, said he expects to submit samples to the Texas Commission on Environmental Quality Thursday for analysis. SouthWest Water has boil water notices in place for several Wise County additions — Aurora Vista, Chisholm Hill Estates, Coyote Ridge Addition, Hills of Oliver Creek, Sky View Ranch Estates and Rio Rancho Estates. Water service was returned to Aurora Vista and Aurora Monday. Rhome remains under a Stage 4 water emergency with conservation efforts underway. The city has started receiving its feed of water from Walnut Creek SUD and has tested samples into the station where it receives the water, increasing its supply. Aqua America reported boil notices in place for Decatur Acres, Hawk Ridge, Highland Meadows, Kings Rest, Mesa Ridge, Old Chisholm, Reatta Estates and Sunshine Meadows. Runaway Bay is under a boil water notice.
BASKETBALL PLAYOFFS – The Decatur Eagles will take on Glen Rose in a 4A Region I area game at 6 tonight at Aledo High School. In the girls playoffs, Bridgeport will face District 7-4A rival Argyle in the 4A Region I quarterfinal at 6 p.m. at Springtown High School. The Slidell Lady Greyhounds take on Saltillo in the 1A Region III quarterfinal at 6.
SUNNY AND BREEZY – After hitting 80 at Decatur Municipal Airport Tuesday, temperatures will cool a bit today in Wise County. The high will be 65 with a west to southwest win 15 to 20 mph. Gusts could be as high as 25 mph. The low will be in the mid 30s tonight. Rain chances return Thursday with a 40 percent chance in the afternoon and highs in the upper 40s.
HISTORICAL SOCIETY MEETING – Wise County Historical Society Inc. will meet 1 p.m. Thursday at the Wise County Heritage Museum, 1602 S. Trinity St., in Decatur. Lunch will not be served this month. The meeting will be in the G.C. Rann Auditorium to facilitate social distancing.
RADIO CLUB MEETS THURSDAY – The West Fork Amateur Radio Club will meet 7 p.m. Thursday at the Paradise Volunteer Fire Department. Anyone interested in ham radios or current ham operators are welcome.

FUNERALS – Funeral for Cora Darlene Downe, 80, of Decatur is 10:30 a.m. Wednesday at the First Baptist Church in Decatur with burial at Jackson Cemetery in Krum. Hawkins Funeral Home in Decatur is handling arrangements.
FUNERAL for Evelyn Lynette Armour, 73, of Decatur is 11 a.m. Saturday at Hawkins-Decatur with burial at Oaklawn Cemetery.
MEMORIAL service for Christopher Ray Vardy, 49, of Boyd is 11 a.m. Saturday at the First United Methodist Church in Fort Worth.
MEMORIAL service for Barry Shaw, 65, of Alvord is 1-3 p.m. Saturday at Shaw Ranch in Alvord.
SERVICE for Antonio Sanchez, 83, of Kansas is pending at Hawkins-Decatur.
SERVICES for Daniel Gleason Wood, 64, of Alvord and Joe Rich, 79, of Bridgeport are pending at Hawkins Funeral Home in Bridgeport.
MEMORIAL service for Berry Lynn Martin, 38, of Fort Worth is 2 p.m. Saturday, March 6, at Hawkins Funeral Home in Boyd. Visitation is one hour prior to the service.
MASS of Christian burial for Amador Fernandez, 44, of Decatur is 10 a.m. Saturday at Assumption of the Blessed Virgin Mary Catholic Church in Decatur. Visitation is 6-8 p.m. Friday with rosary at 7 at Hudson & Torres Funeral Home in Bridgeport.
SERVICE for Clinton Voth, 92, of Runaway Bay will be held at a later date. Hudson & Torres is handling arrangements.
SERVICE for Robert Stanfield, 71, of Bridgeport is pending at Hudson & Torres.
SERVICE for Cherry Wells of Runaway Bay is 3 p.m. Sunday at Full Armor Fellowship in Decatur.