The engaged audience in Denver focuses on the U.S. Virgin Islands' attributes and attractions. (Submitted photo)
The Virgin Islands Department of Tourism reports successful in-market activities in Denver, Colorado and Atlanta, Georgia. It is making inroads into the Denver market, drumming up support and earning engagement from travel agents, meeting planners and media representatives during a special USVI presentation in July.
Commissioner of Tourism Joseph Boschulte led the USVI team, which included Assistant Commissioner of Tourism-Marketing Alani Henneman-Todman and Virgin Islands cultural ambassadors. The team encouraged travel professionals to "Reconnect with Paradise" and to experience "St. Croix: a vibe like no other," the marketing tag line for the "Big Island."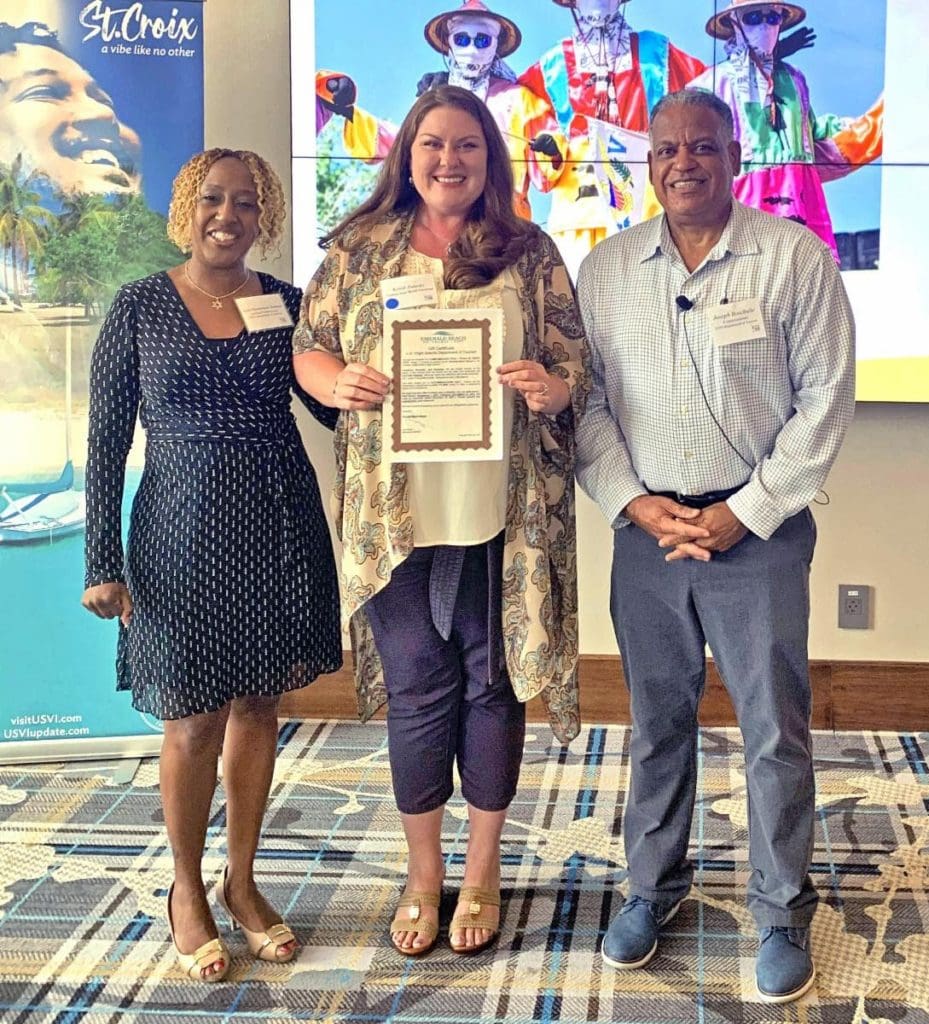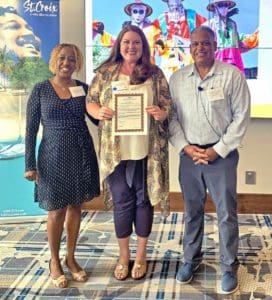 Denver-based travel advisor Kristi Zalesky of Explore Your World Vacations, won a three-night stay at Emerald Beach Resort on St. Thomas and an airfare credit. She is pictured with USVI Commissioner Boschulte and Assistant Commissioner Alani Henneman-Todman. (Submitted photo)
Commissioner Boschulte said he was impressed with how knowledgeable Denverites were of the U.S. Virgin Islands and its offerings, and he reported strong interest from travel sellers based in this largely untapped region of the country.
"American Airlines' twice daily service from Dallas, Texas, has opened up the territory to more of the West, Midwest and Rocky Mountain regions, and we look forward to growing these markets over the long-term," said the commissioner.
He explained it was important to have a strong presence in "the Mile High City," the home of Frontier Airlines, the destination's newest airline partner. While in Denver, Assistant Commissioner Henneman-Todman met with Laura Jackson, vice president of Air Service Development at Denver International Airport, to discuss win-win opportunities between Denver and the territory.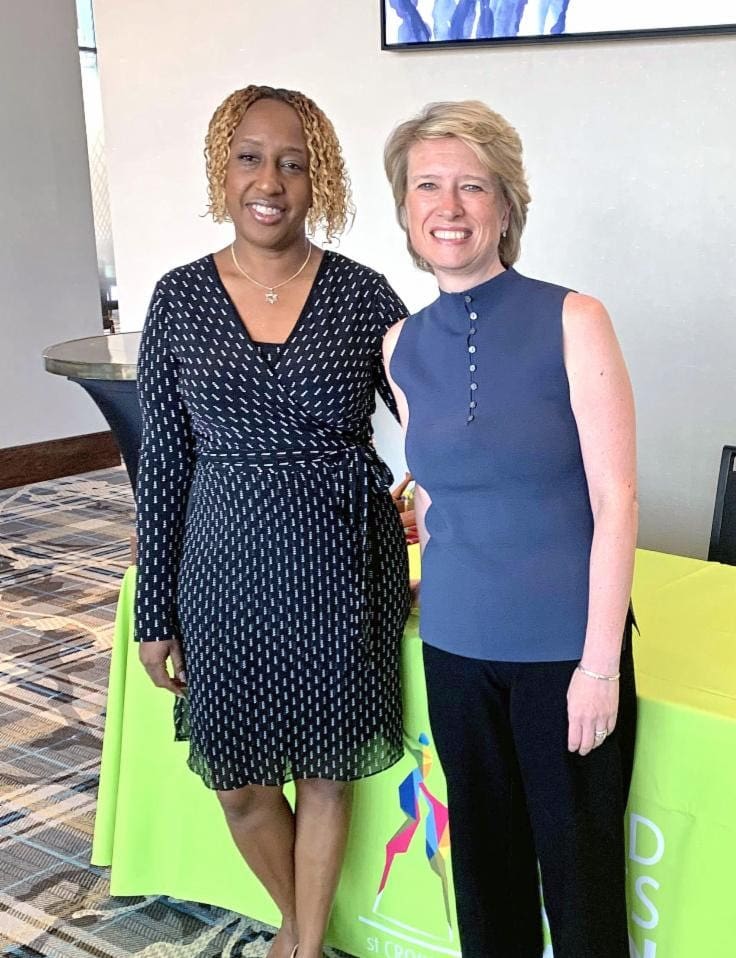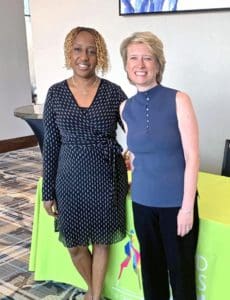 Assistant Commissioner of Tourism Alani Henneman-Todman (left) with Laura Jackson, vice president of Air Service Development, Denver International Airport (Submitted photo)
While in Colorado, Boschulte attended the U.S. Travel Association's Summer Board meeting in Colorado Springs, where he met with fellow tourism executives from across the nation. "These triannual gatherings are timely opportunities to share with and learn from my tourism colleagues' best practices related to examining the current landscape and exploring solutions to propel tourism growth while we navigate the health safety challenges of the pandemic," he said.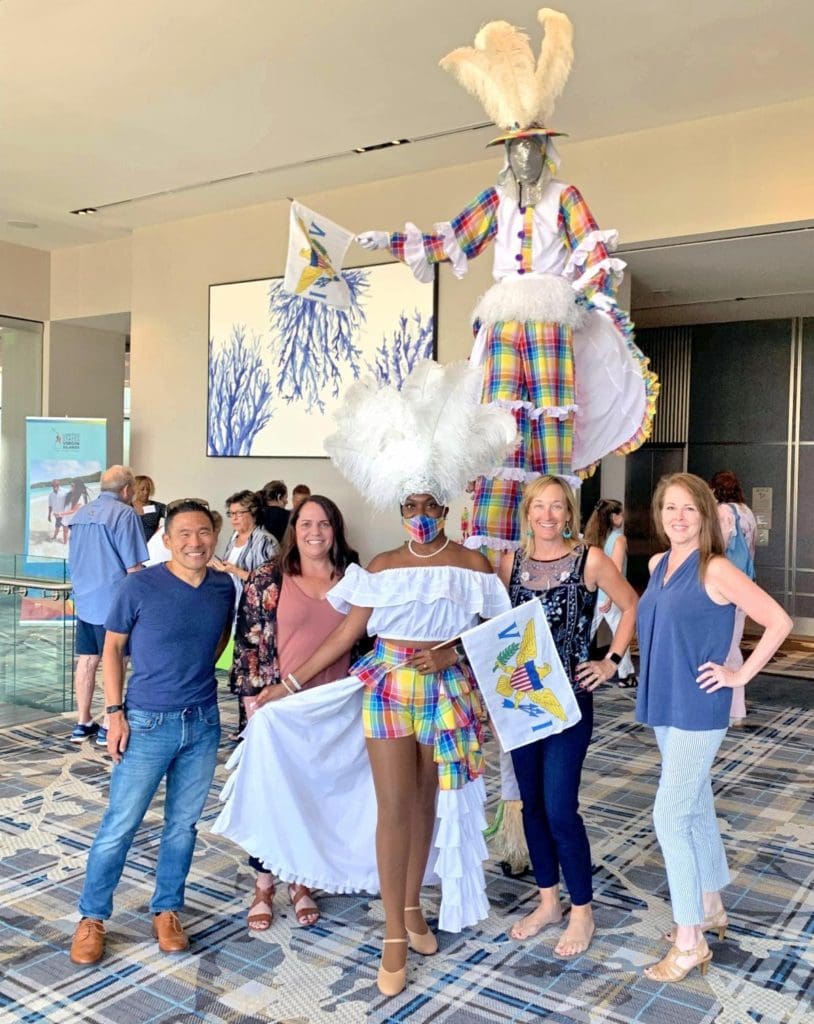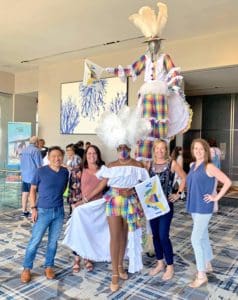 USVI Mocko Jumbie Randall Donovan and Dancer Imoni Ottley were a hit at the travel presentation in Denver. (Submitted photo)
Earlier in the month, Boschulte had joined Gov. Albert Bryan Jr. in Atlanta for an interactive career mixer, part of a national campaign to raise awareness among Virgin Islanders living abroad of the wide range of public service jobs available in the territory.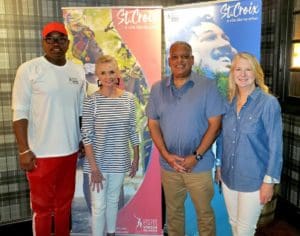 Gov. Albert Bryan Jr. (left) and Commissioner Joseph Boschulte with travel writers Gina Christman and Carolyn O'Neil (right) in Atlanta. (Submitted photo)
Governor Bryan and Commissioner Boschulte also met with members of the travel lifestyle and African American media as well as Virgin Islander Audrey Irvine, senior director at Newsource Newsgathering at CNN, who grew up on St. Croix.

Originally Appeared On: https://stthomassource.com/content/2021/08/10/u-s-virgin-islands-sells-its-appeal-to-travel-pros-in-the-mile-high-city/