11 Jul 2022by Claire Dodd
Yachts, aquamarine waters and chilled glasses of rose; you'll find them all here at the storied Monte-Carlo Beach Hotel, which is looking better than ever thanks to a refurbished beach club. 
Claire Dodd
Freelance Journalist

Claire Dodd
Freelance Journalist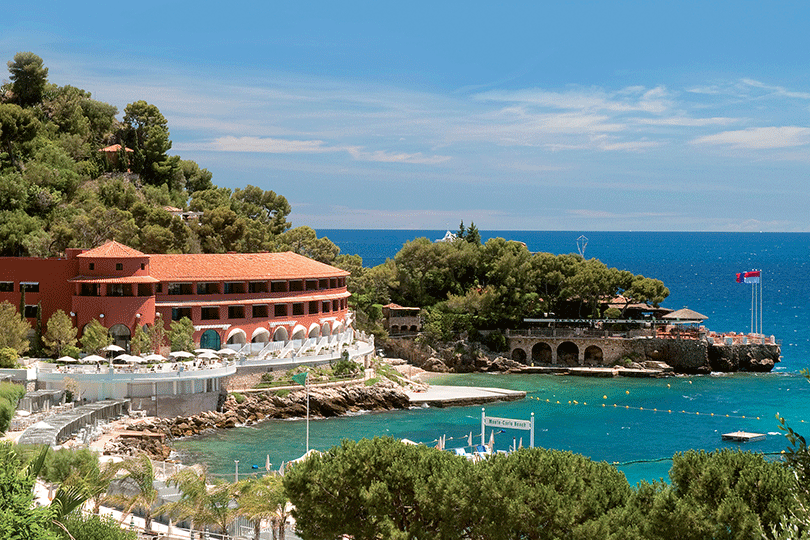 The Monte-Carlo Beach Hotel has redeveloped its beach club offering
Those wanting to step back from the bustle of the city have long sought peace and cocktails at this hotel beside the glittering Med. And while technically the Monte-Carlo Beach Hotel is in France, Monaco's historic centre is just a 10-minute ride away on a free shuttle.
Opened in 1929, and designed by French architect Roger Seassal, the hotel specialises in old world glamour with a modern touch, and is part Monte-Carlo Societe des Bains de Mer, a sizeable collection of hotels, spas and restaurants across the principality. 
India Mahdavi's 2009 redesign kept the playful art deco touches reminiscent of a grand ocean liner. From striped walls, to a porthole in the marble shower – from which to watch the yachts bob by – rooms all celebrate the hotel's past. There's no need to worry about requesting an ocean view; all 40 of them offer a balcony overlooking the sea.
New for 2022 is the redeveloped beach front, which has been restored to its 1930s layout and boasts 180 beach tents, a 200-metre strip of sand, and a pontoon for over-water sunbathing. The hotel also offers up an Olympic-size pool for those who prefer guaranteed calm waters. 
It's also refreshing to hear that as part of the hotel's eco push (it is Green Globe Gold Standard certified) the spa recently switched to Paoma's certified organic, 100% natural products.
The hotel is a Relais & Chateaux property and also new for this year is chef Melanie Serre, who has taken the helm of the hotel's acclaimed oceanside Elsa, which offers up 100% organic food and is wild-caught fish certified. Guests will find signature dishes here are light and flavoursome, including carrot with cumin, carrot top pesto, fresh orange and ginger juice; and red mullet, with potato gnocchi, and black garlic. 
For lunch, ideas include the more relaxed pool-side option of Le Deck, where seafood and local specialities such as barbajuans (a small fritter stuffed with chard and ricotta) are the things to order.
Guests visiting before 3 October can also venture to La Vigie, the hotel's open-air restaurant located among the pines on a headland next to the property. It's the perfect spot to watch the yachting crowd moor-up for a decadent night. 
How to book it  
Rooms at Monte-Carlo Beach Hotel cost from €619 per night, including breakfast. 

Next Article Red Savannah celebrates 10th anniversary and "phenomenal" sales


Originally Appeared Here