Discovery Princess, the final Royal-Class ship in the Princess fleet, is bound for Mexico this winter. Jo Kessel offers a taste of life onboard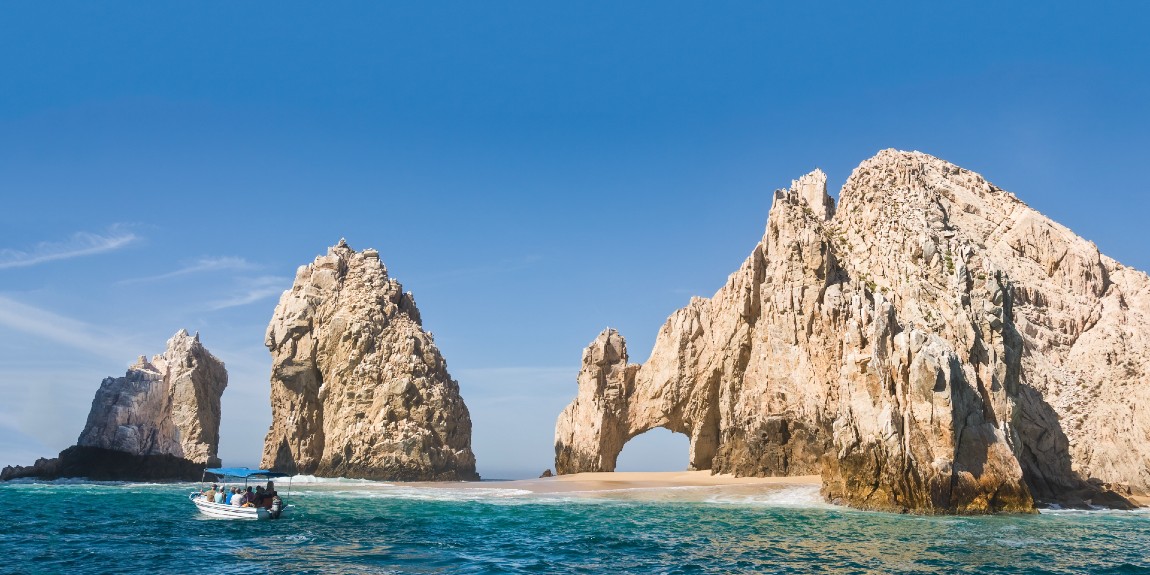 Cabo's iconic El Arco is a scenic highlight of a Mexican Riviera cruise

Jo Kessel
journalist
The sailaway of any cruise ship always stirs up excitement but, as Discovery Princess sets sail from Los Angeles on its maiden voyage, the buzz on the top deck is unparalleled. The horn booms The Love Boat theme tune – the hit 1970s TV series was set onboard a Princess ship – and the gathered crowd whistles, waves and whoops. Their energy speaks volumes. These passengers are beyond excited to be back after the pandemic brought a temporary halt to cruising – indeed, the voyage sold out months in advance. 
Discovery Princess was the final Royal-Class ship to join Princess fleet, setting sail in March this year. Carrying 3,660 guests, it's a sister ship to second-generation Enchanted and Sky Princess, but with subtle differences. The decor has been lifted and lightened, including carpets – this is most apparent in my bright balcony cabin. Pool areas are different too. They've been enhanced and enlarged, with two super-sized pools mid-ship, an adults-only one at the front and an infinity pool at the back, where I pass many a happy hour mesmerised by the ship's wake. 
I'm with my husband Marc, and our seven-night Mexican Riviera voyage coincides with our wedding anniversary. Unbeknownst to him I mention this to a crew member who sends flowers to our stateroom for a nominal fee. There will be more surprises on the actual day.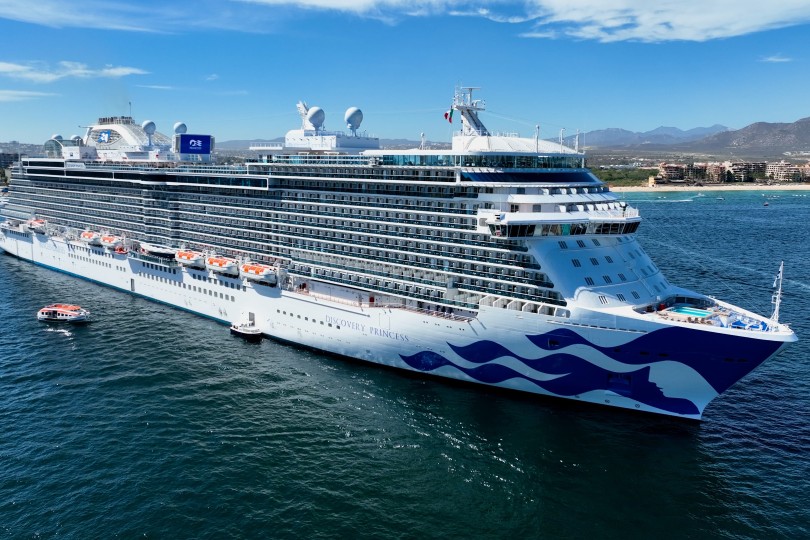 Discovery Princess carries 3,660 passengers
Onboard discoveries
Meanwhile, we challenge ourselves to explore as much of Discovery as possible during the first 24 hours. Marc visits the gym while I circuit the outdoor jogging track and we reconvene for a game of mini-golf. 
Afterwards we brave Discovery's 16-deck high glass walkway. It's scary – especially if you walk against the ship's travelling direction – but then I spot movement beneath my feet. "Dolphins," I squeal, pointing excitedly. We are gripped by the sight of several pods as they follow the ship. 
Lunch is an experiment. Allegedly our movements can be tracked by crew via our wearable-tech Medallion discs. With that in mind, we order Greek salads on our cabin TV and then go walkabout to see if we can be found. "It'll never happen," says my husband when we eventually plant ourselves at a table in the sparkly three-tier Piazza. Moments later a waiter approaches carrying a tray with our lunch. Eureka! 
Our afternoon is spent lazing by the pool and joining a line-dancing class on the Sports Court – it's a welcome, feel-good workout. The reward is dinner in one of the ship's three main dining rooms, all named after Alaskan towns. Ours is called Ketchikan and each of the three courses is prepared to perfection – shrimp cocktail followed by bacon-wrapped meatloaf and apple pie. Home-style cooking with a gourmet twist. 
The food is so tasty that there's no need to fork out on specialty restaurants. That said, we can't resist the filet mignon in the Crown Grill Steakhouse or the sole piccata (cooked with white wine, capers and butter) served in Italian Sabatini's. Both are top notch.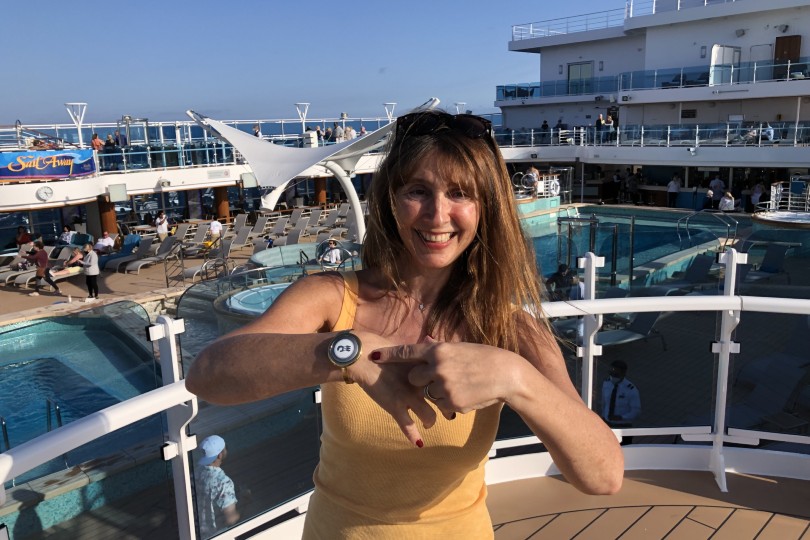 Jo Kessel models her Medallion – the technology can help your clients to personalise their cruise
A Mexican wave
On the itinerary is a trio of Mexican ports. First is Cabo San Lucas, a resort on the southernmost tip of Mexico's Baja Peninsula. A water taxi takes us from the marina to the renowned Lover's Beach, a cove fringed by dramatic rock formations. Beyond those rocks is Cabo's iconic El Arco – a natural rock arch flanked by two oceans: the Sea of Cortez and the Pacific. Hours later we sail past this arch during a sunset sailing excursion. It feels like the end of the earth as we watch the sun sink behind it. 
The next day sees us hiking to a hilltop lighthouse in Mazatlan and the day after we dock in Puerto Vallarta. Here we've booked an all-day boat excursion which proves our greatest adventure. We anchor in remote coves and hike through jungle towards a waterfall, passing trees whose fruits are used to make maracas. Afterwards we are able to use our Medallions to pay for some delectable chocolate in a shop in Puerto Vallarta as Princess has recently introduced its touchless technology to 80 stores across various ports.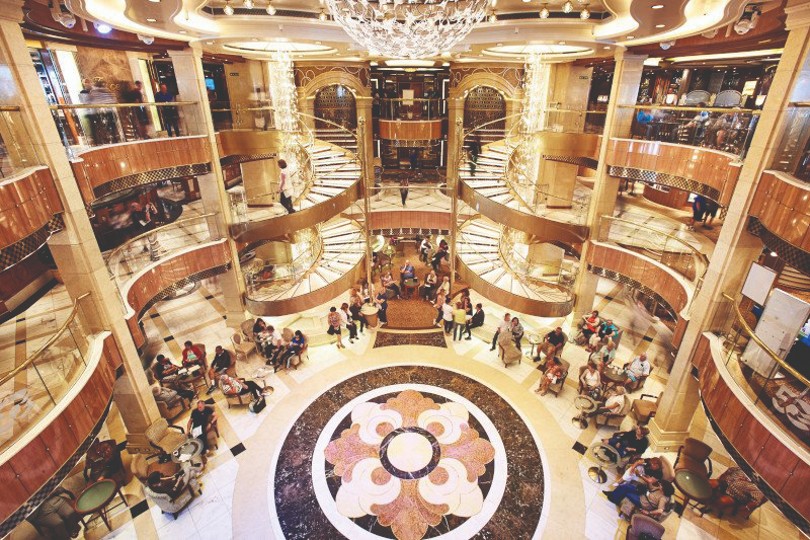 Discovery Princess is the final Royal Class ship to come from Princess Cruises
The personal touch
Hotel general manager Jasper Wolthius explains what sets Discovery apart and why bookings for the ship's Alaska season this summer have been so strong. "It's the crew who make the difference. They always strive to give each passenger a personal experience and the Medallion helps them do that." 
It's therefore no surprise when, for our wedding anniversary, it's the crew who makes it special. They set up an "Ultimate Balcony Breakfast" on our balcony – comprising champagne, smoked salmon bagels and fruit platters. It's £35 per couple and worth it for the champers alone! They decorate our bed Love Boat style and a "Happy Anniversary" greeting flashes on the portal outside our cabin. It feels wonderfully personal. 
The bed's pillows are so good (they're designed by sleep scientists) that I crave one for home. On learning that they're available to buy I try to win the money to cover the cost at Princesses new Deal or No Deal game show, which is exclusive to Discovery. Some guests get to play on stage; the rest play the game bingo-style from the audience. There's a $1,000 prize for the taking, but nobody wins this time. 
No matter! Just being on Discovery feels like hitting the jackpot. 
Book it: Until September Discovery is sailing Alaska cruises from Seattle in the US, returning to the Californian coast and Mexico for winter 2022. A seven-night Mexican Riviera voyage in a balcony cabin on Discovery Princess costs £699pp, departing from Los Angeles on 26 November 2022. princess.com 

Next Article First look at Walt Disney World Florida's newest Star Wars ride


Originally Appeared Here