Travelers walk in Terminal 3 at at Chicago's O'Hare International Airport ahead of the Fourth of July weekend, Friday, July 2, 2021. (Nam Y. Huh/AP)
The United States hit a new milestone for airport passenger screening this week, with the Transportation Security Administration reporting that it screened more people Thursday than it did on the same date in 2019.
TSA officers screened 2,147,090 people at airport security checkpoints nationwide July 1. On the same day in 2019, they screened 2,088,760.
Thursday was at least the 11th time this year that airport screenings surpassed 2 million. The first time that happened was June 11, a Friday, when 2,028,961 people were screened. The busiest day so far in 2021 was June 27, a Sunday, when 2,167,380 people were screened.
More records could be set this weekend.
AAA Mid-Atlantic is projecting that nearly 50 million people are expected to be on the move this holiday weekend. While most will travel by car, many also are flying and taking trains and buses. With airports, trains and roadways likely to be more crowded than they have been in months, officials are warning travelers to be patient and polite.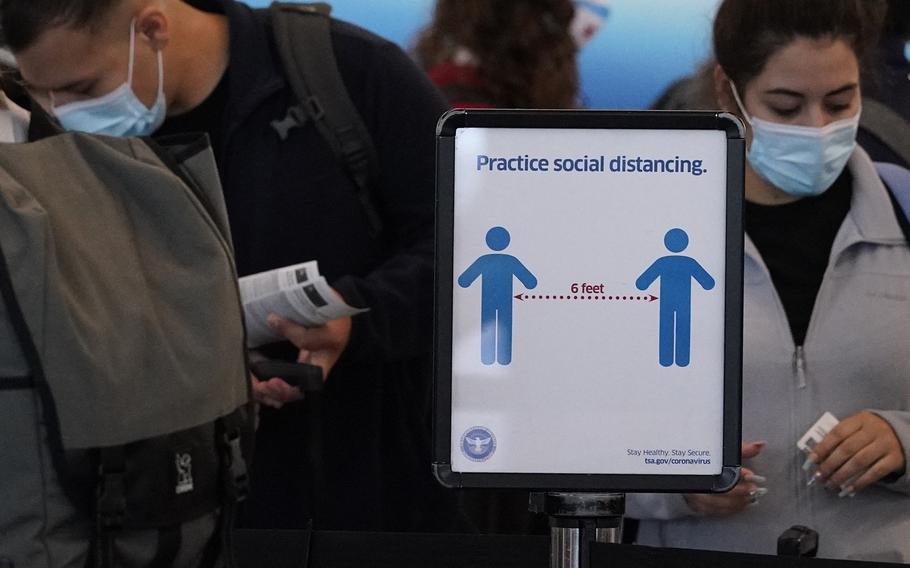 Travelers wait to check-in for their flights as a sign reminding travelers to social distance is displayed in Terminal 3 at O'Hare International Airport in Chicago, Friday, July 2, 2021. (Nam Y. Huh/AP)
"It's heartening to see the country taking to travel again and traveling to enjoy the weekend and celebrate our nation's independence," TSA Administrator David Pekoske said in a statement. "We continue to remind passengers to pack their patience and remain calm through the security checkpoint and onboard aircraft. TSA will not tolerate aggressive actions toward our officers; please help us make travel safe, secure and pleasant on this holiday weekend."
The travel boom is welcomed by an industry that has been hit hard by the pandemic, but there are signs that the growing numbers of travelers is straining the system. Last month, American Airlines announced that it would cancel nearly 950 flights through mid-July as it adjusts its flight schedule to accommodate staffing levels and passenger demand. TSA, also facing a shortage of workers, is offering hiring bonuses in an effort to staff up airport checkpoints for the summer rush.
United Airlines said it expects this to be the busiest travel weekend since the start of the pandemic. The airline is anticipating carrying 2 million customers during the first six days of the month, with July 1 and July 5 being the busiest travel days. The airline is betting big on a post-pandemic recovery. Earlier this week, it announced that it would add 270 new jets to its fleet, including 200 Boeing 737 Max planes.
Subscribe to Stars and Stripes
Just 99c a week!
Subscribe
Originally Appeared On: https://www.stripes.com/theaters/us/2021-07-04/July-Fourth-record-weekend-for-TSA-2047530.html