People line up in the rain outside a pharmacy on Schillerplatz in Kaiserslautern, Germany, June 22, 2021, to get digital COVID-19 vaccination certificates. Anyone, including Americans, who has been fully vaccinated with EU-authorized COVID-19 vaccines can obtain the digital certificate, which may be requested when traveling within the European Union. (Karin Zeitvogel/Stars and Stripes)
KAISERSLAUTERN, Germany — Vaccinated Defense Department personnel and other Americans living in Germany can obtain free digital coronavirus vaccination certificates and use them to travel in the European Union, where new cases are falling and many countries are reopening for visitors.
Getting one of the certificates is voluntary, including for U.S. military personnel, officials said.
It "is an additional possibility to document corona vaccinations," but remains "voluntary and complementary," the German Health Ministry said on its website.
The Centers for Disease Control and Prevention cards issued to anyone vaccinated at U.S. military installations or health clinics are considered proof of vaccination by the U.S., and are widely accepted, including in many parts of Europe, U.S. Army Garrison Bavaria said in a statement.
But it's unclear if the CDC cards, which are said to be easy to falsify, will be accepted throughout the Continent.
The EU digital certificate is aimed at making it easier to travel and take part in activities that may require proof of vaccination. Some service members in Bavaria have expressed "interest in voluntarily signing up" for the digital certificate "to ensure additional methods of proof while traveling in the European Union," USAG Bavaria said.
Pharmacies in Germany began issuing the certificates to fully vaccinated German citizens on June 14. The health ministry in Berlin told Stars and Stripes on Monday that U.S. Status of Forces Agreement personnel are also eligible for the free digital vaccination pass, with the German government picking up the tab. Other Americans and foreigners may also be eligible.
Certificates can be obtained by taking a valid photo ID and a vaccination card to any pharmacy that has been authorized to provide the document, Peter Schreiber, a spokesman for the Rheinland-Pfalz Pharmacies Association, told Stars and Stripes.
A list of pharmacies offering the certificates is available at https://www.mein-apothekenmanager.de, by entering the name or postal code of a town or city and selecting "Digitales Impfzertifikat" under "Serviceleistung."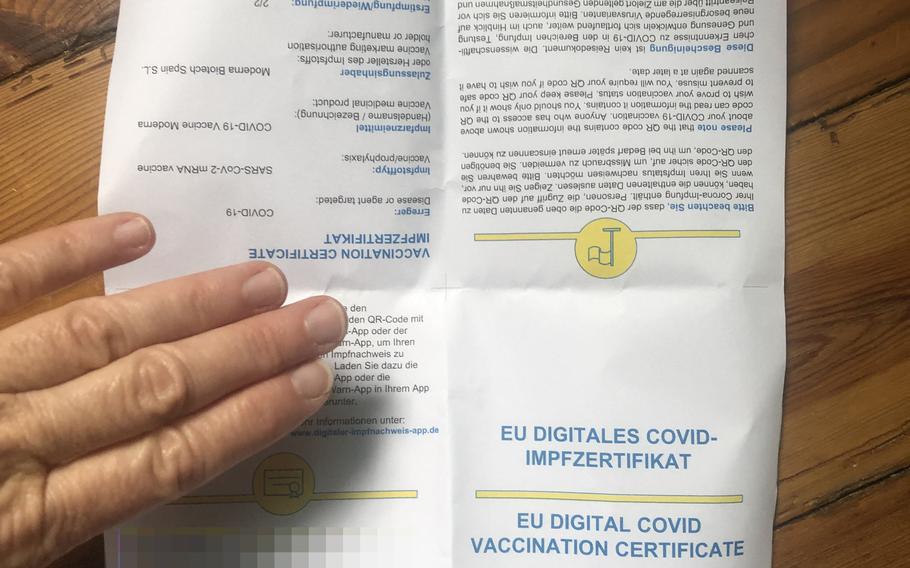 A print-out of the digital COVID-19 vaccination certificate obtained in Kaiserslautern, Germany, June 22, 2021, includes a QR code and personal data, obscured, and information about which vaccine was received and when. Two certificates, one for each vaccine dose, were issued to a U.S. citizen in Kaiserslautern within minutes on presentation of a photo ID and a CDC vaccine card. (Karin Zeitvogel/Stars and Stripes)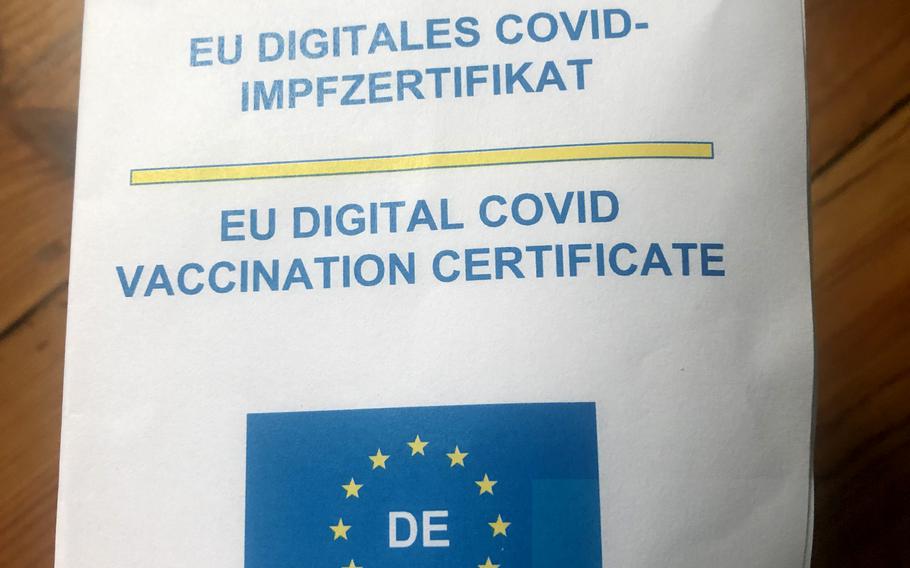 The print-out of a the EU digital COVID-19 vaccination certificate delivered to a U.S. citizen in Kaiserslautern, Germany, June 22, 2021, can be folded in four or uploaded to the Corona-Warn app or the CovPass app. (Karin Zeitvogel/Stars and Stripes)
Dozens of pharmacies in Kaiserslautern, home to the largest U.S. military community overseas, are issuing the certificates, a search on the website showed.
Daniela Kimmel-Schulze, owner of the Schwanen Apotheke in Kaiserslautern's pedestrian zone, said an American got a certificate from her pharmacy last week. A former test center housed in a wooden hut outside the pharmacy was offering free digital certificates Tuesday to anyone with a valid ID and vaccination card showing at least 14 days since they received their final vaccine dose.
All three vaccines used in the U.S. — the two-dose Pfizer-BioNTech and Moderna shots, and the single-dose Johnson & Johnson vaccine — are authorized in the EU.
In Bavaria, U.S. military personnel must also show a copy of their sponsor's orders to obtain a certificate, the garrison there said.
Certificates are issued for each dose of a vaccine a person has had. They have a unique identifying number and information including the person's name, date of birth, which vaccine they had and when, and a QR code that contains the same data.
"Anyone who has access to the QR code can read the information it contains," the certificate warns in German and English. "You should only show it if you wish to prove your vaccination status."
A digital form of the certificate can be created by scanning the QR code using Germany's Corona Warn App or the more recent CovPass app.
The apps are available for Android smartphones and iPhones, but only with a Google account or Apple ID that is set to the Germany region.
A paper copy of the certificate is also acceptable as proof of vaccination, staff at one of the pharmacies in Kaiserslautern and German officials said.
svan.jennifer@stripes.com
Twitter: @stripesktown
zeitvogel.karin@stripes.com
Twitter: @StripesZeit
kloeckner.marcus@stripes.com
Marcus Klockener
Karin Zeitvogel
Jennifer Svan
Subscribe to Stars and Stripes
Just 99c a week!
Subscribe
Originally Appeared On: https://www.stripes.com/theaters/europe/2021-06-22/digital-vaccine-certificate-available-to-americans-in-germany-1767374.html