Col. Edward Ballanco wrapped up his final assignment as U.S. Army Garrison Daegu's commander at Camp Walker, South Korea, Monday, July 12, 2021. (Edwin Petzke/U.S. Army)
The garrison commander overseeing an area in the early epicenter for coronavirus cases in South Korea bid farewell to his soldiers during a change-of-command ceremony on Monday.
Col. Edward Ballanco wrapped up his final assignment as U.S. Army Garrison Daegu's commander at Camp Walker. He will be retiring after 25 years of military service to settle in Montana, where he and his wife plan to launch a travel tour business.
As the commander of Area IV in South Korea, Ballanco oversaw four Army camps and supported Navy and Marine Corps installations in the southern part of the country. Roughly 10,000 U.S. service members, their dependents and civilian employees are stationed in Area IV.
The garrison's new commander, Col. Brian Schoellhorn, comes to the peninsula from Fort Stewart, Ga., where he served as the operations officer for the 3rd Infantry Division.
Ballanco's two-year tenure was unexpectedly hit by an international crisis.
On Feb. 26, 2020, U.S. Forces Korea confirmed the world's first COVID-19 infection among an American service member. The 23-year-old soldier, who was stationed at Camp Carroll, recovered after 49 days in isolation.
The city of Daegu, population 2.5 million people, experienced the country's initial coronavirus outbreak in February 2020.
South Korea's disease-control center said at the time that many of the country's infections were linked to a religious movement called the Shincheonji Church of Jesus, the Temple of the Tabernacle of the Testimony, which has a chapter about a mile from one of Camp Walker's gates in Daegu.
A year later, the Daegu area had accounted for more than half of the coronavirus cases in South Korea.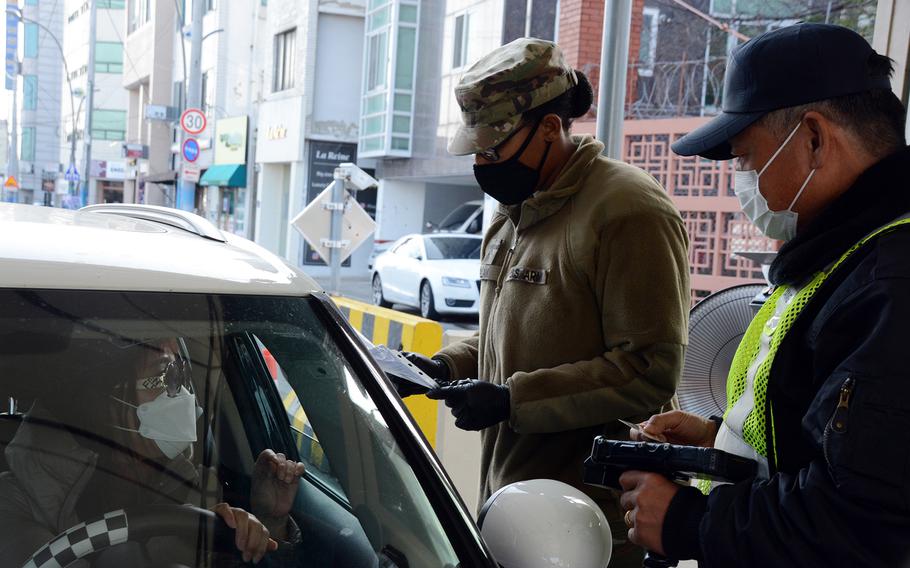 A soldier screens drivers before allowing them to enter Camp Walker in the coronavirus-hit city of Daegu, South Korea, Saturday, Feb. 22, 2020. (Stars and Stripes)
Col. Michael Tremblay, the former garrison commander of Camp Humphreys, described Daegu garrison as "ground zero" for the U.S. military's coronavirus cases.
At the pandemic's outset, U.S. agencies were still studying the effects of COVID-19 and had yet to issue conclusive health advisories, leaving commanders like Ballanco to come up with their own solutions to mitigate its spread.
Ballanco, a career armor officer, perused scientific journals and observed local hospitals to come up with solutions to a still-nascent pandemic. One of his policies included implementing a "smell test" at the front gates of the garrison, which required visitors to smell apple cider vinegar before coming onto the base.
"I got all kinds of flak," Ballanco told Stars and Stripes in an interview Friday, adding that a few military doctors had "criticized and ridiculed" his plan.
The U.S. Centers for Disease Control and Prevention would later report that a loss of smell was a common symptom of COVID-19.
"I was pretty surprised at how much leeway I was given," he said. "Especially with the spotlight in Daegu — we were being watched."
Ballanco assessed that his policies, while not flawless, had paid off. Ballanco temporarily forbade most visitors to Camp Walker and banned non-essential travel off the post by service members and their families.
"We never had any spread on our post," he said. "Not one person gave it to another person in any of our camps in Area IV, and we never shut anything down. We kept living, but we took precautions."
Command Sgt. Maj. Jonathon Blue, in an email Friday, said Ballanco was "lauded … as the leader who kept the community together."
"As cases rose and fell outside the fence line, he confidently told me to avoid knee-jerk reactions with reports of positive cases," Blue said. "We looked closely at the cases of soldiers who tested positive on the peninsula and the possibilities of the spread locally in Area IV."
Schoellhorn, during Monday's ceremony, said it was evident that Ballanco made Daegu a "very special place."
"All I had to do was walk around and talk to two or three people to know the impact that the Ballancos have made," Schoellhorn said. "You have made a positive and lasting impact that will endure long after you're gone."
David Choi
Subscribe to Stars and Stripes
Just 99c a week!
Subscribe
Originally Appeared On: https://www.stripes.com/theaters/asia_pacific/2021-07-12/us-army-garrison-daegu-coronavirus-ballanco-2133755.html