Frolicking in France. Prancing in Prague. Skiing in Switzerland.
All pre-pandemic plans and dreams.
I had a distant dream of retrofitting a small cargo van into a camper and exploring the United States during the first few years of my far-off retirement. But in 2020, when all international travel suddenly ceased, visions of #VanLife appeared. The online community #VanLife is full of people who enjoy traveling while living in a van. One look at the hashtag on social media, and you'll want to pack up everything, sell your belongings and head out on a road trip. 
During the early days of the pandemic, finding a tricked-out van was a challenge. Suppliers were sold out, and custom vans often had a waiting list of a year or more. Luxury camper vans sell for upward of $250,000, while even basic ones are often the price of a nice condo. And a premade van has only one use: camping.
Coreil picked up the blank cargo van in Asheville, North Carolina, before transforming it into the 'Adventure Van.'

PHOTO BY KARLA COREIL

But I discovered that even buying a blank cargo van — the dream! — was nearly impossible. No dealer in Louisiana had the right size available.
When I found one in North Carolina, a weekend trip to pick it up followed. We bought a 2021 Ram ProMaster City — brand new and bare for my husband, Kevin Kuperman, and me to remodel. Right now, those are selling for about $25,700.
Then came the build-out. First, lots (and lots) of YouTube videos to learn how to do everything from carving foam to upholstery to insulation and more, then finding the correct supplies. Specialty items had to be ordered. Local supply stores were a great source for materials when the big box stores weren't getting their regular shipments. Bonus: the owners love talking shop and offering helpful tips.
Sweat equity
Together, we designed the interior of the van, but Kevin did most of the buildout. We also had help from Kevin's dad, a retired mechanic. As it turns out, we didn't have to hire anyone. So while the total price of the conversion is unclear, I do know that it included a lot of sweat equity.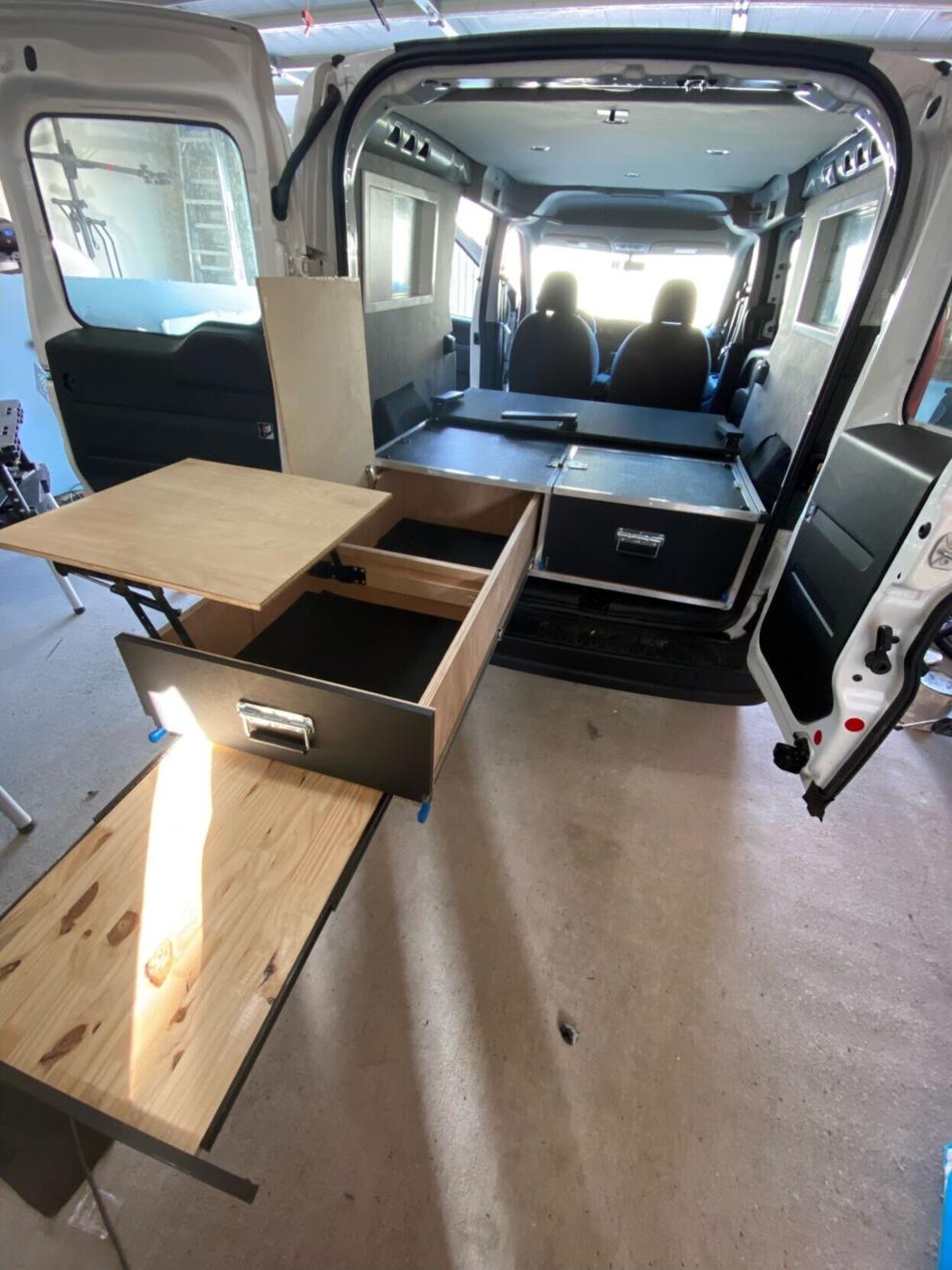 The 'Adventure Van' has lots of storage in sliding drawers under the sleeping platform. Coreil's favorite feature is the 'wine and cheese board' that slides out of the bottom of the drawer.

PHOTO BY KARLA COREIL

Camper vans, like RVs, tend to get terrible gas mileage — not the best idea when long road trips are in the works. But building out a van means you are responsible for all design and material choices, and some improvements are possible.
Think Kilmat and wool insulation to deaden road noise and maintain the interior temperature overnight. Think ultralight polystyrene foam walls covered in upholstery fabric instead of finished wood and tile, so the van stays lighter and gets better gas mileage.
Think removable walls and a removable sleeping/kitchen space so the cargo van can also be used for, you know, cargo.
And then it was time to go: living the dream in the "Adventure Van."
My husband and I traipsed across Texas to New Mexico, sleeping in state and national parks, learning so many things about #VanLife on the inaugural Adventure Van experience.
Minimalist life
Much like a tiny house, even the most spacious camper van has limited space, which requires minimalist packing and careful curation of supplies — and the Adventure Van is smaller than most.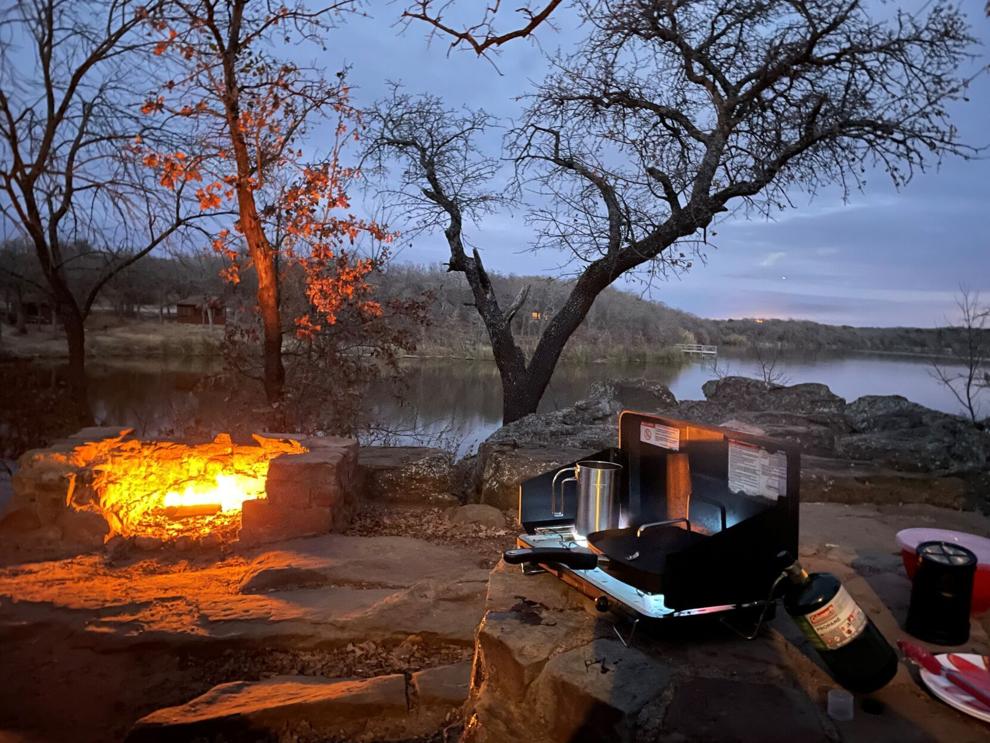 Coreil set up camp cooking at sunset while overlooking Lake Mineral Wells State Park. Because she designed and built the 'Adventure Van' herself, it's as easy to set up the portable kitchen next to the campfire as it is to set up at the van itself.

PHOTO BY KARLA COREIL

Who knew skillets were available with removable handles?
#VanLife packing is always an exercise in minimalism. Six pairs of shoes and two outfits per day? Forget about it! Instead, I sourced the smallest supplies possible and in the absolute minimum amounts I needed.
Compared to a two-person tent, even the smallest camper van offers an abundance of space. However, unlike a tent, a van is (usually) easier to set up when it's time to sleep. When your camp neighbors are fighting 40 mph winds all night, holding up the tent to keep the poles from breaking, a sturdy camper van is just the place to be.
Sure, camper vans generally offer less living space than RVs, but some people live in them, even if only for part of the year. A benefit is that most camper vans are small enough to fit in a regular parking space, though extended versions are available with enough space and seat belts for up to five grandchildren. Meeting new friends in Maine and touring their camper van (formerly owned by Tim McGraw and Faith Hill) was proof that a camper can be both extra large and extra luxurious.
Pros and cons
On the road for two weeks, my husband and I learned the pros and cons of #VanLife. For one, al fresco cooking and dining by a lake at sunset is a dream. Inside the van, we were able to watch animals and birds from our windows, knowing they wouldn't have come that close if we were outside.
We installed gooseneck reading lamps by the bed because reading in bed is my nighttime routine. Also a favorite. 
Though, speaking of beds, we did have a fluke. We closed the ice chest flap on our partially deflated air mattress, gashing it.
We tried to repair it, but the gash was too large, and we were too far from civilization to buy another that day. So we slept on the wooden platform that night — not an experience I want to repeat, as one can imagine. 
Where to go?
Where should you go while living the #VanLife? Anywhere that allows RV camping and many places that allow tent camping are suitable for van camping. If the camper van does not have a bathroom on board, staying at a campground with a bathhouse is a great idea.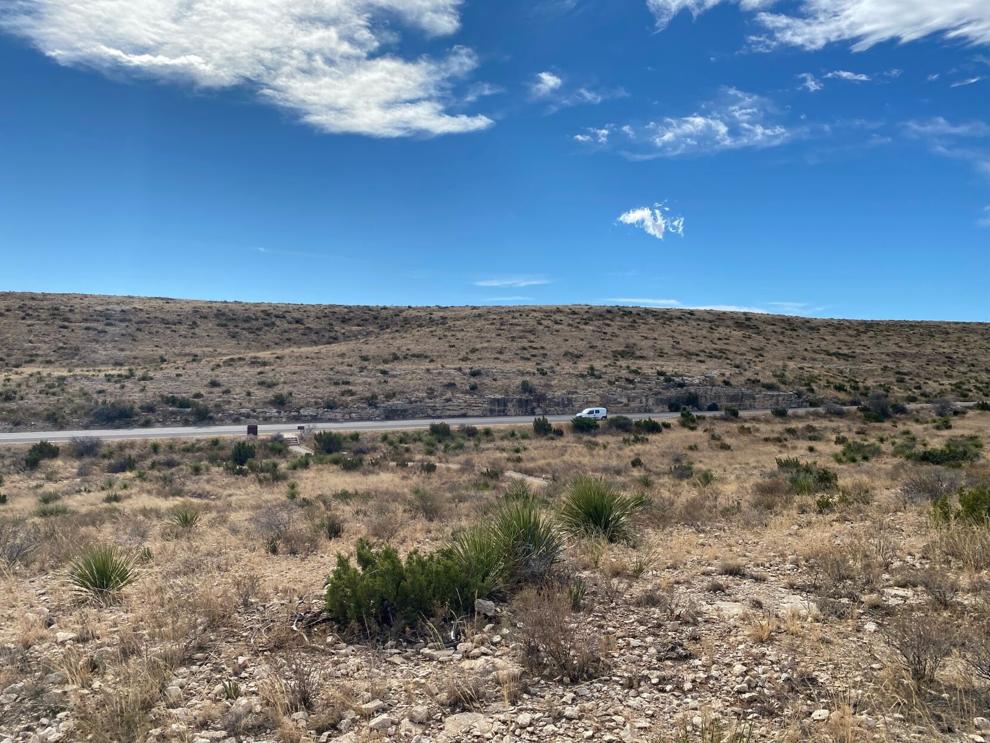 Day hiking from the camper van is easy, as it fits into any regular parking spot. Carlsbad Caverns National Park in New Mexico. 

BY KARLA COREIL | Contributing writer

Are water and electric hookups necessary for a camper van? It depends — most vans rely on solar power or 12-volt "house" batteries to run lights and fans, and large water containers are commonly used for everyday camper needs. The more appliances a van has, the more likely it will need external power and water.
Is this the lifestyle for everyone? No. Renting a van is a good idea before committing the money and effort to acquire your own.
However, if you love a minimalist lifestyle and adventuring camp-style, #VanLife is 100% living the dream. Living in a van down by the river: Life dream accomplished.