David Ryan has served nine years on the Inverness City Council, but has never run against another candidate for office.
Originally appointed while serving on the city's code enforcement board, he's run unopposed to keep his council seat, until now.
Ryan is running against Crystal Lizanich and John Labriola.
Get more from the Citrus County Chronicle
Ryan
"This is a new thing for me," Ryan told the Chronicle, about facing another candidate.
"I'm bad at tooting my own horn. I will toot the council's horn," he said. "We're a great team. We have disagreements, but we still respect each other."
Ryan said he wants one more term to finish some of the city's projects that he's helped start.
He will be 80 years old when the term ends, he said.
"I think we have a little more to do," he said.
Some of those unfinished jobs include making some changes and additions to Liberty and Wallace Brooks Park, he said, such as adding a kayak rental business to operate there, and a public beach for Big Lake Henderson.
Ryan also wants to see RV camping introduced at Whispering Pines, expand its trail system, and continue to work with the Citrus County Commission on joint projects.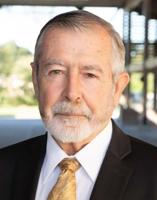 Candidate Name: David Butler Ryan.
Ryan has owned several small businesses and served 10 years in the U.S. Navy and the U.S. Department of Energy.
Ryan said the city can also be proud of its festivals and events, which attract visitors from across county, and even state, lines.
"It's an ongoing process," he said of the work. "We have a saying on the council. We want to leave the city better than when we found it."
As for having other candidates running for the same office, Ryan said, "I'm a little concerned, who wouldn't be."
Ryan said voters can look at the state of the city with its amenities and its popular events, along with the city council reducing Inverness' tax rate each year for the past three years, and decide whether he's done a good job.
"Talking about myself is a little outside my comfort zone," he said. "This is a group effort."
While his opponents are well intentioned, Ryan said, "I think experience counts in this job, and commitment and getting involved."