Mickey and Minnie Mouse, Goofy, Pluto, and Donald Duck get the guests energized to sail during the Welcome To Sea show on the Disney Wish.

PHOTOS COURTESY OF ALEXIA MCKAY

Millennials: Let's face it. We are the kids no longer. Yes, we grew up on movies like "Toy Story" and "Lion King." And speaking of "Lion King," we have no problems debating your "Frozen" child about why it's the greatest Disney movie ever. We're the same generation that waited over 20 years to cry when Andy left for college in "Toy Story 4" and can sing every lyric in Mulan's "Be A Man" while in the shower or cleaning the house. 
In a nutshell, millennials are now the aunts and uncles who at any moment could be triggered by a Disney moment and its 1995 all over again for us. But that doesn't mean we want to be bothered by kiddie stuff all the time, especially on vacation. 
Which is why I found the Disney cruise to be so refreshing. Normally, when most adults hear about Disney cruises, the initial thought is a ship full of kids and families. It's not the first go-to trip for a single, childless 30-plus Black woman who occasionally sings Disney songs at the top of her lungs in her car, but gets annoyed at children's birthday parties and public toddler tantrums.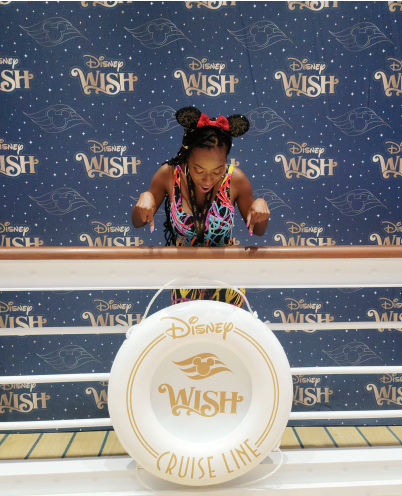 The Disney Wish sets sail on its christening cruise on June 29 from Port Canaveral.
However, all of those misconceptions were thrown overboard after my plus one and I got the exclusive opportunity to sail aboard Disney's newest addition, the Disney Wish cruise ship. And let's just say I'm ready for my next sail.  
The ship is the latest in a decade for Disney and the fifth in its line following the Magic, Dream, Wonder and Fantasy. Over the years, Disney has gone above and beyond to accommodate activities for adult to indulge in and the Wish delivers. 
Adults-only fun 
As a first-time Disney cruiser, I was surprised to learn about the many adult pleasures, from the numerous lounges to the exclusive adult-only deck and beach. 
On the ship, we found our tribe on the Quiet Cove, which is a deck exclusive to the 18-plus crowd. As we sat in the infinity pool nursing our Pop Spritz – a popsicle-based cocktail – and soft contemporary jazz playing in the background, for a moment you forget that you are on a world-class family cruise ship. 
Speaking of drinks, what's a cruise for grown folks without a drink in your hand? 
The Disney Wish had plenty to offer, from old fashions to specialty crafted cocktails such as the $5,000 one you can ask about (because that's all we could afford to do) at the Star Wars themed lounge called Hyperspace. And for an extra fee, there's also wine, rum, bourbon and whiskey tastings you can attend, complete with cheeses.
And though we bypassed the Essence Fest this year to indulge in the Wish, the Hurricanes and beignets at The Bayou Lounge (which is themed after "The Princess and the Frog" movie), temporarily took us down Bourbon Street. 
The music 
From the elevators, hallways and stateroom to the deck, you cannot go anywhere on a Disney ship and not hear a Disney tune. 
And we're not sure how Disney did it, but the songs to our favorite Disney movies were on their grown-ish vibe. While taking selfies in the mirrored elevator on the way to dinner, the instrumental "Part of Your World" really had me getting my Kelly Rowland on. 
The old Hollywood atmosphere of their 1923 Restaurant (named after the year the Walt Disney Company was created) gives instant date night feels. The "Toy Story" instrumental theme song, "You Got A Friend In Me," playing in the background was almost romantic for our evening dinner.
But there are some other jam sessions. When the band at The Bayou started playing "September" by Earth, Wind and Fire, I had a cool auntie moment. Or just blame my parents, who raised me on good music. 
Unapologetic grub moments 
Speaking of entrees, the food is world-class. It ranges from the upscale open buffet at Marceline Market to taco stations and barbeque ribs that fall off the bone at the on-deck grills.
My top recommendation for 1923 would be the lamb chops and salmon; yes, I indulged in both entrees and they were delicious! 
The other two restaurants are Arendelle: A Frozen Dining Adventure and Avengers: Quantum Encounter. They offer interactive dining experiences, submerging you in a live show while you eat.  
My sweet tooth was instantly satisfied with the mixed berry and coconut and mango gelato at their Joyful Sweets shop.
Moments to unplug
If unplugging was a place, Castaway Cay would be it. This is Disney's private island that is in the Bahamas. It includes three beaches and excursions such as snorkeling, paddle boating, banana boat and biking. 
If you don't want to be bothered with kids splashing in the water, you can take the third trolley stop to Serenity Bay, the adults-only beach. 
The soft waves, crystal blue water and white sands create an oasis and instantly put you in a 'whoo-sah' state of mind. 
Castaway Key has beach bars with cast members who deliver drinks right to your umbrella. My personal suggestion: the pina colada.
Another unplugging moment on the ship is the Senses Spa, which is rainforest themed. I did not get a chance to try it, but the ice chamber and whirlpool jacuzzi look like they're going to be winners. 
In the end, I did indulge my inner child a few times with Mickey sprinkles on my gelato and a photo op with Mickey and Minnie. So, no matter how grown up you are, Disney brings out the joy, innocence, youth and happiness in all of us. 
And, the adult in me loved the Disney cruise. The Disney Wish sets sail on its official inaugural cruise on July 14.
Originally Appeared On: https://www.flcourier.com/entertainment/i-m-a-believer-adults-can-really-have-fun-on-disney-cruises/article_a7c3fcae-feba-11ec-b287-3f0a9ab31b2a.html