The White House said this week that US travel restrictions affecting countries including Ireland, the UK and most of Europe will be kept in place for now due to the rise of the Delta variant of Covid-19.
The measures were introduced in March 2020 and have had a big impact on many Irish people who live and work in the United States.
Aideen Gilmore is from Donegal and lives in Washington DC.
She has been working in the US for five years but if she goes home to Ireland, she will not be able to get back into America.
Aideen cannot re-enter the US under Covid travel restrictions because of the type of visa she holds.
It means she has not been home to Ireland for nearly two years.
"To be 20 months away from your family and not knowing when you are going to see them again has been very tough," she said.
"There have been family friends and neighbours who have died and I have had to watch funerals over Zoom which has obviously been very upsetting," Aideen said.
Her only sister Clare is getting married back home in Ireland in just over two weeks' time.
"I don't know what to do. Should I take a risk and go home in the hope that they'll lift the restrictions?" Aideen asked. "I can't fathom missing my only sister's wedding."
It has been a horrible situation for me. This is the longest I have ever been away from my family.
The US travel restrictions are not just separating families, they are also having a big impact on businesses.
Mark Redmond is the Chief Executive of the American Chamber of Commerce Ireland.
"Irish companies have very significant operations across all 50 US states employing over 110,000 people. So much of that work can be done remotely but it can't all be done remotely all the time," he said.
"There is definitely an impetus and a need for the Irish leadership based here in Ireland to be able to travel to the US to their operations and to their people," he added.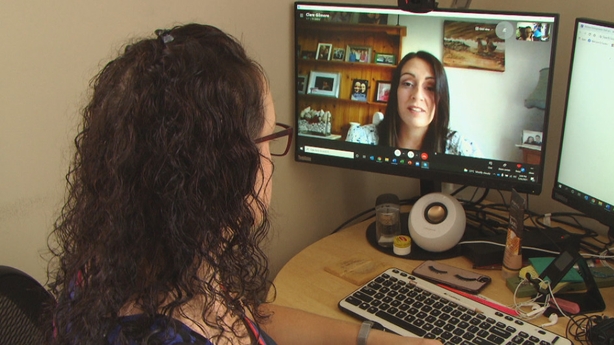 Aideen chatting to her sister, bride-to-be Clare, online
The travel restrictions were announced by the previous US president Donald Trump and maintained by the current Biden administration.
Only US citizens, green card holders and people with certain types of visas can enter the US from the affected countries.
The EU and the UK have eased their travel restrictions on Americans but the favour has not been returned.
The Irish Embassy in Washington said it was working closely with EU colleagues, as well as making direct contact with the Biden administration, making the case for the removal or relaxation of the travel restrictions.
For those affected by the measures, like Donegal woman Aideen Gilmore, home has never felt so far away.
"It has been a horrible situation for me. This is the longest I have ever been away from my family," she said.
"We are just waiting patiently for some kind of end to this, so we can all be reunited."
Originally Appeared On: https://www.rte.ie/news/2021/0729/1238094-us-travel-ban/