Crimestoppers is offering a reward for the person or persons who entered a shed owned by Brian Halfacre and stole an early 2000 Camouflage  Yamaha Kodiak 450. Anyone with information is asked to call or text crimestoppers at 842-9777
Crimestoppers is offering a reward for the person or persons who entered a residence and stole a pair of sheep shears. Call or text crimestopperst a 842-9777 if you have any information on this or any other crime.
Crimestoppers is offering a reward for the person or persons who stole a 1993 White Innsbruck RV travel trailer owned by Bryan Bailey. Call or text crimestoppers at 842-9777.
On 8/15 the Wayne County Sheriff's Office arrested 46-year-old Matthew Beck on a Failure to Appear Warrant for Driving with Suspended License and Resisting or Obstructing a Peace Officer. Bond was set at $595.
Fairfield Memorial Hospital will be hosting a blood drive for the public on tomorrow, Wednesday, August 17th. The blood drive will take place from 10:30am-3:30pm at Fairfield Memorial Hospital's Educational Annex Building 203 NW 10th Street. To register online visit redcrossblood.org and use sponsor code: Fairfield Memorial or contact Shauna Williams at 847-8242.
The Illinois Eastern Community Colleges Board will meet on tonight at 6:15 p.m. at Frontier Community College's Bob Boyles Hall.
The Tax Increment Financing Committee of the City Council of the City of Fairfield will conduct a Committee Meeting on tomorrow, Wednesday, August 17 at 5:15pm at City Hall.
Fairfield National Bank has announced that Janet Talbert is retiring on August 31st after 47 years at FNB. Janet has been an integral part of the FNB team since 1975 when she began as a high school Co-op student in the Bookkeeping department.  She worked part-time through her junior and senior years, then began working full-time after graduating early.   "Janet has been a key part of the FNB team for many years," stated Joey Hungerford, President & CEO.  "Her knowledge and experience are outstanding, and we will miss her witty personality and quiet leadership.  She has an outstanding work ethic, is fun to be around, and has set a high standard for us to follow." Janet lives in Geff with her husband, Scott.  They have 2 children – Jessica (Eric) Smothers and Jason Talbert, and two grandchildren – Wesley and Michelle.
The Second Judicial Circuit recently participated in a statewide initiative sponsored by the Illinois Judges Association and the Conference of Chief Judges to help local schools, students, and community organizations prepare for success in the 2022-23 school year by donating school supplies to students throughout the Circuit. Second Circuit Chief Judge Melissa Morgan and Circuit Judge Matthew Hartrich met with Ashlie Zwilling, Supervisor with SWAN on August 10, to deliver school supplies that will be donated to families serviced by the organization. SWAN, Stop Women Abuse Now, is a non-profit organization in Olney that provides homeless shelters in the Second Circuit counties of Richland, Crawford, Lawrence, Edwards, Wabash, and Wayne. SWAN also provides domestic violence services, legal advocacy, and parenting education for individuals at their centers, as well as, various support groups and parenting classes in communities throughout the region. Also on hand to assist with the donations were Children's Caseworker, Corrine Pennington and Advocate, Jackie Reckling. Chief Judge Morgan stated, "The Second Circuit Judges are proud to partner in this venture with SWAN. As a presiding judge in juvenile court, I see firsthand the struggles our children face when they are not prepared for school. My colleagues and I are honored to participate in this initiative to provide school supplies to local students and their families and we are happy to join forces with others who encourage and support our children in their educational pursuits." Judge Hartrich added, "A good education benefits the future prospects of all juveniles. The Judges of the Second Circuit are excited to do our small part to further the education of our youth."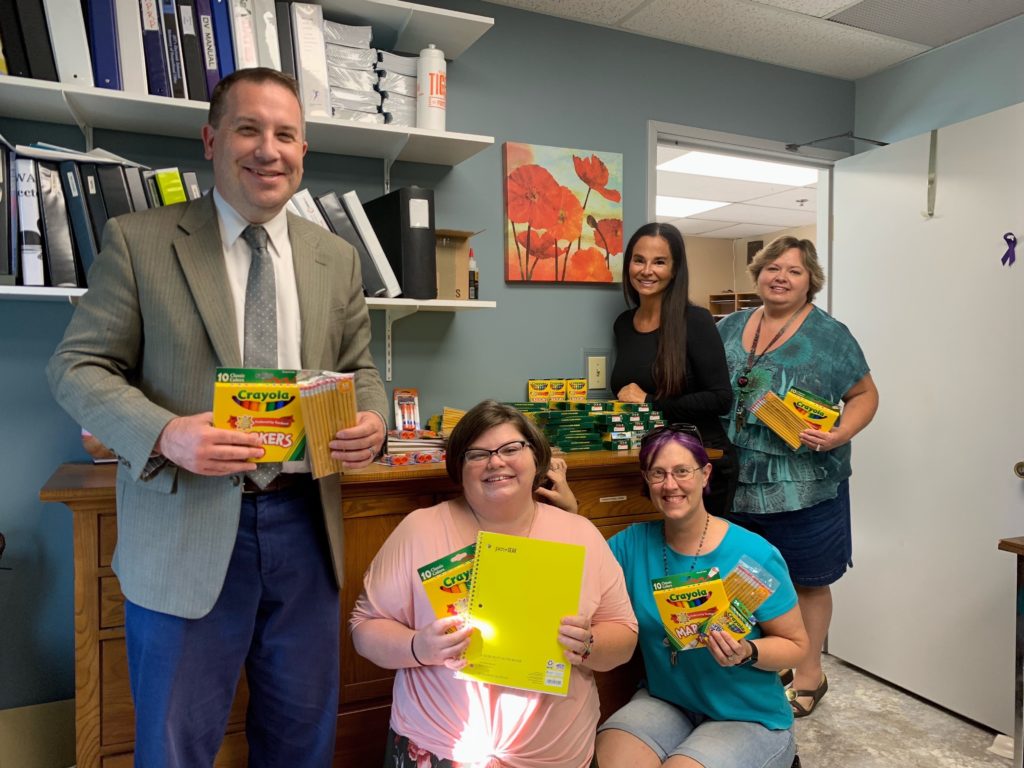 The Illinois LINK system will be temporarily unavailable Saturday and Sunday. State officials are informing LINK Card customers that they won't be able to make purchases or ATM withdrawals from August 20th at 11 pm through August 21st at 6 pm.  People with LINK cards are ask to plan ahead and buy groceries and withdraw cash you'll need during the shutdown.  Additionally, you will not be able to access your account information from the Illinois Link Helpline at 1-800-678-LINK or the Illinois Link Card Website. The shutdown is due to scheduled maintenance.  Officials say Illinois is transitioning to a new link card system.
In yesterday's Illinois Crop Progress Report. As of Sunday, corn in the dough stage was at 70%, with corn denting at 12%, behind the 5-year average. Soybeans blooming reached 93% with beans setting pods at 73%, both a little less than average. The corn condition was rated 6% poor to very poor, 21% fair, and 73% good to excellent. Soybean condition was rated 2% poor to very poor, 26% fair, and 69% good to excellent.
River stages as of this morning:  the Little Wabash east of Fairfield stands at 26.14 feet, above the 17 ft. flood stage. Meanwhile, the Skillet Fork at Wayne City has a reading of 5.11 feet (flood stage is 15 ft.). The Little Wabash below Clay City is at 11.12 feet (flood stage is 18 ft.). Bonpas Creek at Browns reads 1.59 feet, and the Little Wabash at Main Street in Carmi reads 29.70 feet. The Wabash River at Mt. Carmel sits at 4.49 feet.
Today's crude oil price is $84.21 down $2.68 from yesterday. The September crude oil price is $89.99 down $1.74 from yesterday morning.