With several inches of snowfall this weekend, Peg Schafer of Aurora imagined herself in warmer weather while attending the Hastings Outdoor Show on the Adams County Fairgrounds.
"It's really fun to look at all the different types of campers," she said. "It gets me excited for spring."
Schafer bought a recreational vehicle last week at Dykeman's Camper Place, but came to the show to look at other options with a friend, Dianne Botsch of Doniphan.
"We're looking forward to the opportunity to go together," Schafer said. "We really want to go the state parks around Nebraska."
Botsch said she and her husband enjoy hiking and being in nature, activities among the few not disrupted by the pandemic that has limited other aspects of life. Camping avoids crowded areas and allows for social distancing.
"We just want to go to the state parks and get off the beaten path," Botsch said.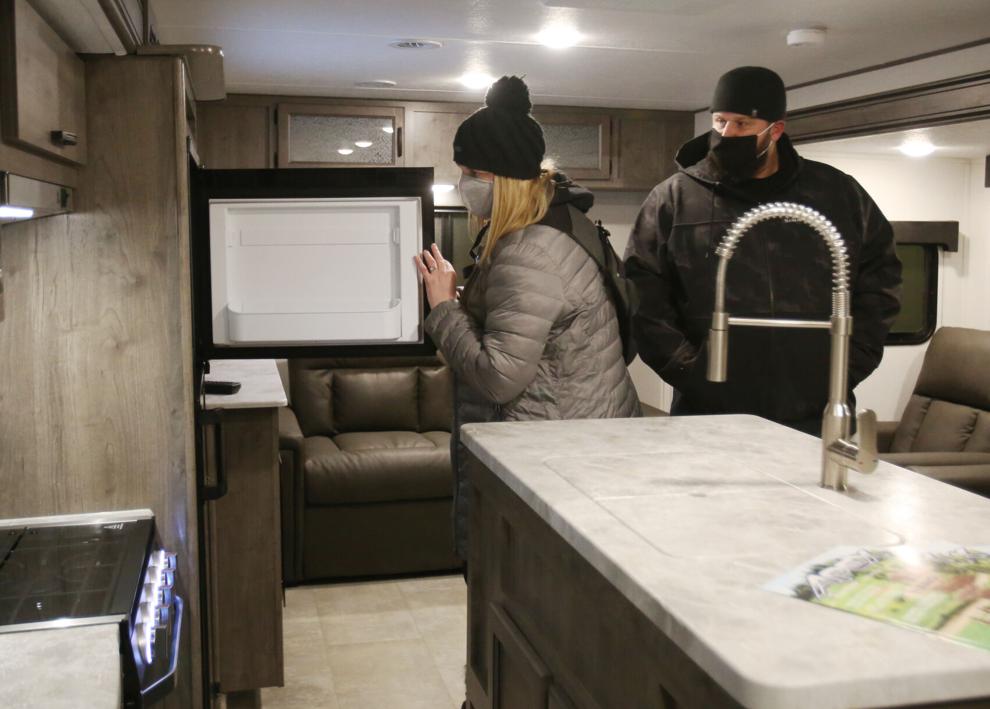 RVs of all sizes and with various options from Dykeman's Camper Place in Hastings were on display at the show. All-terrain vehicles were shown by Powerhouse Motors and Sports in Hastings. Sweet Enterprises in Kearney brought golf carts, and LCL Truck Equipment in Hastings displayed grills and accessories.
Schafer and her husband used to own an RV but sold it about five years ago. With her upcoming retirement in May and her husband's recent retirement, Schafer said, she is looking forward to some traveling and wanted to have accommodations to invite her children and grandchildren along.
For Schafer, an important option was the outdoor kitchen, which allows access to the stove and refrigerator from a side panel.
"I can start cooking without disturbing anyone sleeping inside," she said.
To display the various options in the fifth wheels and travel trailers up for sale, Dykeman's Camper Place opened each up so customers could walk through and test the specifics themselves.
"It lets us demonstrate what the camper would look like when it's set up," said manager Wade Dykeman.
Wade said his family often traveled via camper while he was growing up. Now, it's become a family business.
"It's a fun hobby to get families and friends out," he said. "It's a great, fun and affordable adventure."
Despite the snowfall, manager Brad Dykeman said there was a steady flow of people attending the show.
"Thank you to everybody who did come out," he said. "To be able to still have a show is awesome."