Travel experienced a huge shift throughout the pandemic, when many long-distance transportation options were restricted. During that time, many people discovered the freedom and benefits that come from RV travel, including avoiding busy airports, grueling plane flights and never-ending train rides. Instead, they travel in peace and luxury with their own RV. Carstars of Olympia has recently expanded their brand to incorporate the Campstars RV Sales, exclusively featuring and servicing RVs that are perfect for your family's next road trip. If you are looking to get away this summer, ditch the plane tickets and find your perfect home with wheels at Campstars!
Campstars offers a great selection of RVs, all from reputable manufacturers. Each RV is thoroughly inspected by an RVIA certified technician, so you can trust your next RV is in tip-top shape! Photo courtesy: Campstars
Carstars and Campstars owner John Paine has seen great growth in this industry, and found It essential to create some separation between their auto and RV sales to better cater to their clients' needs. Now, Campstars features a brand-new lot complete with exceptional RV options. Their wide selection boasts reputable manufacturers of the top RVs, including Coachmen, Forest River, Gulf Stream, Heartland and Prime Time.
With their extensive new and used inventory, finding the right RV for you at the right price is a breeze. They also have financing solutions to easily fit your new RV into your budget so you can set aside your cash to make your next vacation even better.
One of the biggest perks of working with Campstars is their exceptional service and commitment to people. At most dealerships, customers find they are bounced around between salespeople, lending representatives and management. "We make the process super simple," shares John. "The person that comes out to introduce themselves is the person that will be with you from start to finish, so there is no down time waiting for other people or going back and forth on decisions." Additionally, Campstars is upfront with their pricing and gives their staff full autonomy to negotiate pricing within reason to fit the needs of the client. This gives clients great peace of mind in working with one person that truly has their best interest at heart.
The team at Campstars is centered around people first, and it shows in their comradery and the level of care they exemplify every day. "We are always looking to exceed customer expectations, and our customers tell us that we do it time and time again," says John. "We are looking to make long-term customers and friendships, and we find that we do that on a steady basis."
RV Sales and Service in Olympia
Campstars recently revamped their parking lot to make for an even better buying experience. Be sure to stop by to check out the updated space! Photo courtesy: Campstars
Since they offer both sales and service, Campstars truly can be the one-stop shop you need to make RV life simple and convenient. They offer services such as winterizing, roof repair, fridge fixes and everything in between. "We do just about anything you want done," John shares. "We even have a 7,200-square-foot shop and plenty of room to store your RV during the off-season." No matter the need, Campstars is eager to help make your RV experience exceptional and keep you happy on the road for years to come.
In addition to a seamless RV buying experience and outstanding service options, Campstars also offers consignment. Unlike other operations, Campstars does not charge any customer fees to consign their RV, which can be a huge plus. "We really just want to make it a good experience for the customer," says John. "We often offer to buy the RV directly from them, but are happy to do consignment if they wish to get more for it." For clients that opt to go the consignment route, Campstars still offers a robust, full-service approach to support customers through the sales process. "We fully inspect the RVs and can even bring them in if the client no longer has a way to tow to us," explains John. "We also do all the marketing for it and take care of all of the financing and pay-offs, so the client only has to worry about getting paid." It is a great option for anyone that has outgrown their RV or is simply not traveling anymore and is ready to get the best value for their RV.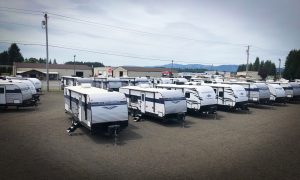 Campstars is a locally-owned and family-run business with people at heart. They are ready to help you find your RV to make your next vacation one to remember! Photo courtesy: Campstars
As a local, family business, Campstars has the heart, community and commitment that makes our local businesses so special. John and his daughter work side by side in different areas of the business and often welcome visiting help from John's father. "We all love the customers, and my father loves coming up in the spring and summer to talk to people and introduce them to camping." Combined, John and his father have decades of experience in the automotive and sales industry, and with that expertise comes a level of trust and confidence you won't easily find elsewhere.
Campstars truly sets the bar high when it comes to service, customer experience and community. They are passionate about helping people find the best solutions for their family so they can experience traveling and vacationing like never before. If you are ready to jump into the world of RVs, contact Campstars today to get started!
Carstars Auto Sales & RV
8500 Old Highway 99 SE
Olympia, WA 98501
Sponsored