Breadcrumb Trail Links
News
Local News
Local Business
Business
Calgary is a little off the pace from the national average, but there is an expected push still to come from the larger return of business travel and conferences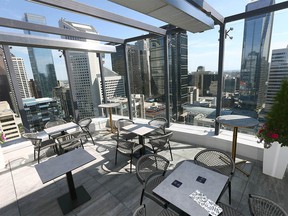 FILE PHOTO: The patio on the 27th floor at the Wilde at the Dorian Hotel in downtown Calgary on Friday, July 29, 2022. Jim Wells/Postmedia
Article content
Recovery for Calgary hotels is two years ahead of schedule.
Advertisement 2
This advertisement has not loaded yet, but your article continues below.
Article content
CBRE released a market update on Thursday and is now forecasting pandemic recovery for the sector to be reached in 2023, far outpacing previous predictions of 2025.
By clicking on the sign up button you consent to receive the above newsletter from Postmedia Network Inc. You may unsubscribe any time by clicking on the unsubscribe link at the bottom of our emails. Postmedia Network Inc. | 365 Bloor Street East, Toronto, Ontario, M4W 3L4 | 416-383-2300
Thanks for signing up!
Article content
An occupancy level of 58 per cent is forecast in Calgary next year, combined with revenue per available room (RevPAR) of $91. This still trails occupancy of 62 per cent in 2019, but RevPAR is up, which was at $88 pre-pandemic.
Article content
It is a massive turnaround for an industry that was hit hard by COVID-19 restrictions.
"It's absolutely critical," said Dave Kaiser, president and CEO of the Alberta Hotel and Lodging Association. "(But) a couple of months where we're trending above 2018 still certainly don't make up for the many months where we had travel restrictions and hotels were bleeding red."
Advertisement 3
This advertisement has not loaded yet, but your article continues below.
Article content
Calgary is a little off the pace from the national average, but there is an expected push still to come from the larger return of business travel and conferences, which were among the first segments to shut down and the last to ramp up once pandemic restrictions were lifted.
Nicole Nguyen, senior director for CBRE Hotels Group, told Postmedia business travel will make a comeback in Calgary, especially with the BMO convention centre expansion at Stampede Park set for completion in 2024.
Article content
Most of the recovery has been related to a pent-up tourism demand.
"We've seen a ton of leisure business, the road warriors, the regional corporate guys on the road," Nguyen said. "And really, we started to see a lot of the social gatherings, weddings, events . . . starting to happen more and more and more in '22."
Advertisement 4
This advertisement has not loaded yet, but your article continues below.
Article content
The sector in Calgary received a big boost in July. As the Stampede exceeded expectations with 1.2 million guests, it packed hotels for two weeks, increasing occupancy to 69.5 per cent for the month, eclipsing July 2019 by five per cent.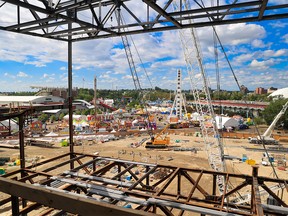 The Calgary Stampede midway is seen from the BMO Centre expansion construction site on Sunday, July 17, 2022. Construction resulted in a more congested midway area which should be resolved by the 2024 Calgary Stampede. Gavin Young/Postmedia
Calgary's hotel sector was one of the hardest hit in Canada, dropping to 24 per cent occupancy and $27 RevPAR in 2020, and slowly improving to 33 per cent occupancy and $40 RevPAR last year. This year, the sector is on pace to finish with a 55 per cent occupancy and $81 RevPAR. The average daily rate has already recovered to $146 from $145 in 2019.
While this is positive momentum, it is still far from 2014-15, before the last oil crash, when occupancy hit 73 per cent with a RevPAR of $118.
"We need to continue to have a strong economy, bottom line for the province . . . we need to continue to attract investment into the economy," said Kaiser.
Advertisement 5
This advertisement has not loaded yet, but your article continues below.
Article content
There are still challenges ahead for the sector.



Tourism sector looks to an optimistic recovery




Tourism recovery requires shift in employment approach




'Grave' situation for Calgary hotels prompts plea for tax break
The cloud currently looming over hoteliers is the threat of a recession due to inflation and rising interest rates.
Higher inflation means people have less discretionary spending for tourism while companies tighten their belts. It also means costs continue to go up for hotels, from food, to utilities and staff costs.
With the Bank of Canada hiking interest rates three percentage points so far this year, it also means any debt taken on by operators in the past two and a half years to survive the pandemic has become much more expensive.
Advertisement 6
This advertisement has not loaded yet, but your article continues below.
Article content
"If you're carrying considerable debt you're gonna have to roll it over, because the rates are certainly higher," said Kaiser.
Hotels also continue to struggle with staffing, despite the recovery over the summer. Kaiser pegs the labour shortage at about 25 per cent from pre-pandemic levels, with some hotels limiting the number of rooms they have available because they cannot hire enough housekeepers.
After multiple rounds of layoffs, the industry has lost many employees to other sectors and companies as the competition for workers has ratcheted up.
"That's our biggest headwind and it's actually hurting our recovery," said Kaiser.
jaldrich@postmedia.com
Twitter: @JoshAldrich03
Share this article in your social network
Advertisement 1
This advertisement has not loaded yet, but your article continues below.
Comments
Postmedia is committed to maintaining a lively but civil forum for discussion and encourage all readers to share their views on our articles. Comments may take up to an hour for moderation before appearing on the site. We ask you to keep your comments relevant and respectful. We have enabled email notifications—you will now receive an email if you receive a reply to your comment, there is an update to a comment thread you follow or if a user you follow comments. Visit our Community Guidelines for more information and details on how to adjust your email settings.